Oppo officially confirmed that the Reno9 series will feature a Snapdragon 8+ Gen 1 chipset, though that is probably reserved for the Pro+ model. It is exactly this model that was discovered by the AnTuTu teams, doing benchmarks a couple of days before its official launch.
The phone posted a total score of 1,094,959. That is pretty much on the level with what other phones with this chip have achieved, but there is a surprise – the unit that ran the test had an under-clocked chipset. Maybe this was with a power saving mode that affected the detection, maybe Oppo found a way to optimize things.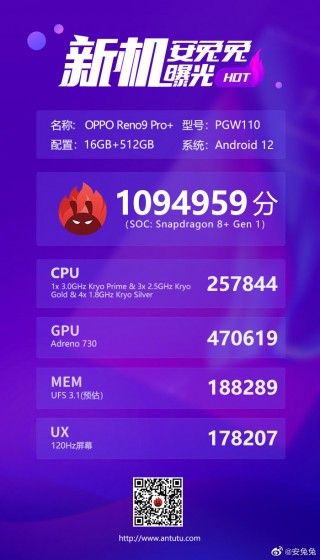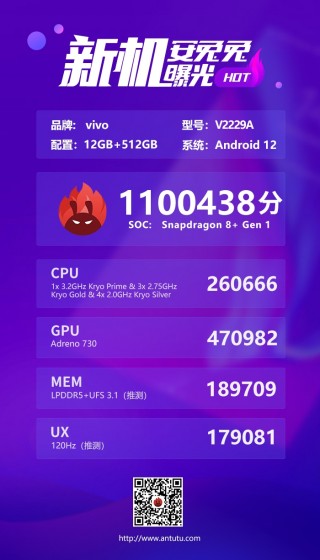 Oppo Reno9 Pro+ AnTuTu result • Fairly typical Snapdragon 8+ Gen 1 AnTuTu scores
The CPU of the 8+ Gen 1 was running its prime core at 3.0GHz, the mid-cores at 2.5GHz and the little ones at 1.8GHz. A typical example of this chip has its three clusters at 3.2GHz, 2.8GHz and 2.0GHz, respectively. A typical 8+ Gen 1 phone gets a score of around 1.1 million, same as this one. We don't know whether the GPU was under-clocked as well, but the score looks pretty typical for the chip.
Has Oppo found a way to underclock the chip (thus reducing power usage and heat generation) without affecting performance? If so, the 8+ Gen 1 will get a second wind in the face of the imminent 8 Gen 2 launch. The official announcement is this Thursday, so we'll keep our ears open for any such optimizations.
Anyway, the test unit packed a lot of memory – 16GB RAM and 512GB storage. This again lines up with Oppo's teasers, which mention LPDDR5 and UFS 3.1.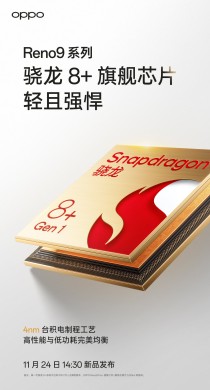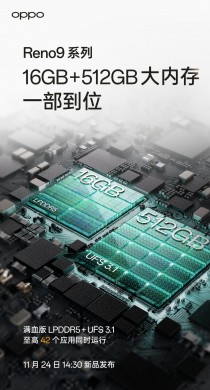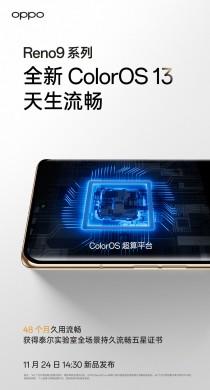 Oppo is teasing a Snapdragon 8+ Gen 1 chip, 16GB of LPDDR5 RAM and 512GB UFS 3.1 storage
It is a bit concerning that the OS is listed as Android 12. A phone coming at the end of 2022, especially a premium model, is expected to arrive with v13 out of the box. The Oppo Reno8 Pro already runs stable ColorOS 13.