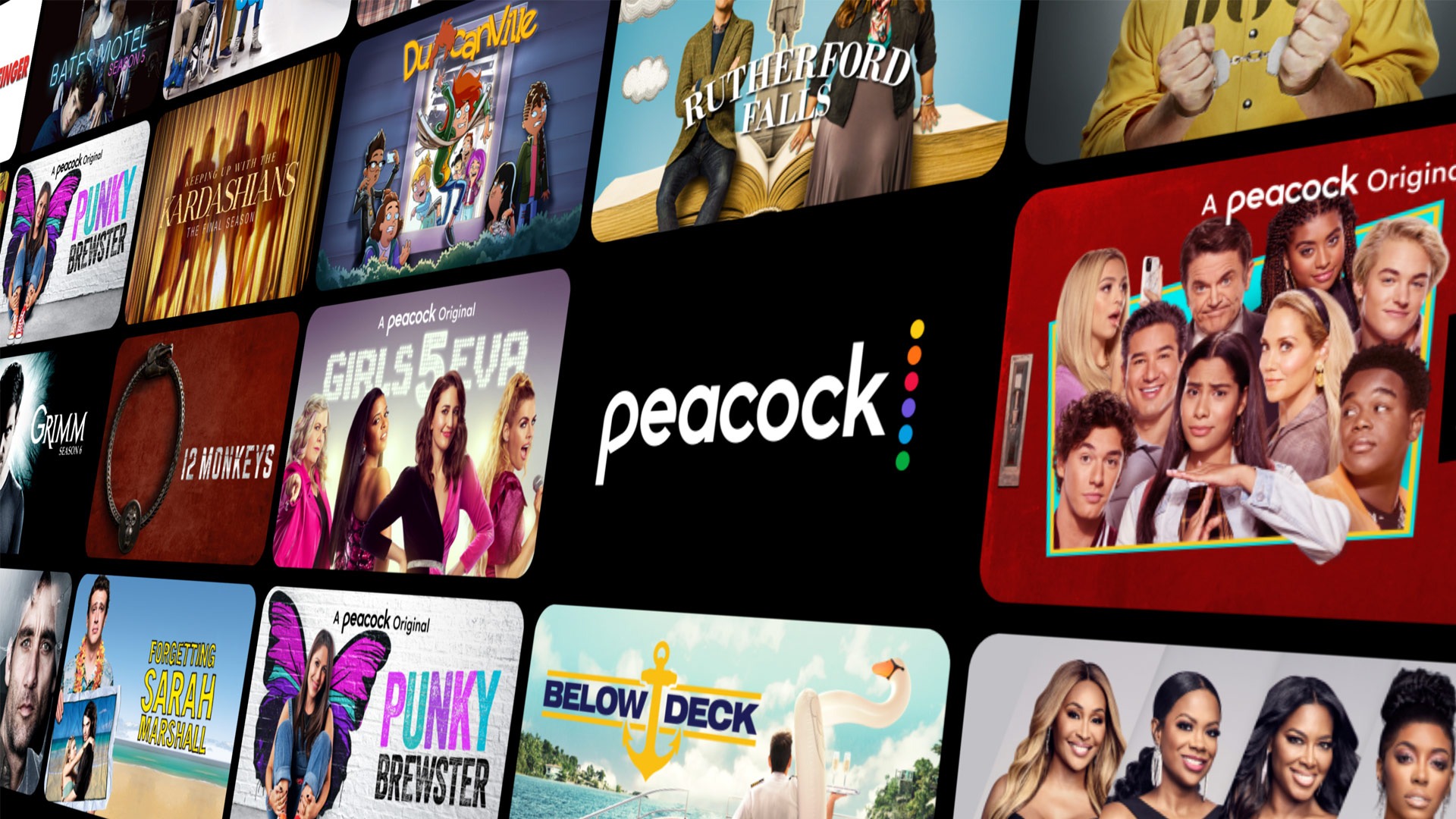 Peacock TV is the streaming service launched by NBCUniversal, which sends a plethora of TV shows, movies and sport straight to your screen. Now available in the USA, UK and Ireland, Germany, Austria, Switzerland and Italy, Peacock is spreading its, erm, tail across the world and is shaping up to be a pretty good contender (note: not all content is available worldwide).
Much like the likes of Netflix, Hulu and Amazon Prime Video, Peacock offers video on demand, but with a focus on content from the NBC network. Unlike those services, Peacock can be streamed for free in the US, with an ad-supported subscription tier, or you can pay via its top tier for an ads-free experience. Elsewhere, you'll need to access Peacock slightly differently, which we'll explain later.
Peacock has a brilliant back catalogue of entertainment with big-name shows like The Office and Parks and Recreation, new Peacock Originals, and even live sports (including a new deal with WWE). There are movies like The 40 Year-Old Virgin and The Godfather Trilogy, and Peacock also has live channels covering a range of genres. 
NBC Peacock: key info
What is it? NBC's streaming service, which features many of its classic sitcoms as well as movies, TV dramas and original content.
When did it release? July 15, 2020.
How much does it cost? Free (ad-supported), $4.99 (ad-supported) or $9.99, with additional programming on the paid tiers.
Where has it launched? USA, UK and Ireland, Germany, Austria, Switzerland and Italy.
There are three Peacock TV price tiers (free, $4.99 and $9.99 per month) that we'll explain in more detail below. We'll explain which kinds of shows and movies you can expect across the different tiers, so you can decide which makes sense to you.
Does NBC's catalogue of shows stand up to streaming behemoths like Netflix, Hulu and Disney Plus? That's a big question mark. Here's everything we know about Peacock TV, including its cost, supported devices, exclusive shows and more.
Peacock TV: Cost
Peacock TV: how to watch for free 
In the US? All you have to do to watch Peacock TV for free is head here (opens in new tab), and create an account by entering an email and password. You don't need to do anything else to access the free tier, but the service is only available in the US.
In the UK, Ireland, Germany, Italy, Switzerland or Austria? You can't access the subscription model at all, including the free tier, but you do get Peacock included as part of your Sky TV package (or included with a NOW TV subscription in the UK). 
Peacock TV cost: free and paid tiers explained
Peacock has three pricing tiers for the USA and selected US territories – one free tier and two premium tiers. The latter include one with ads and one without. Check out the full breakdown of the differences in content between each tier further down this page, but here are the differences between each tier, and the monthly cost for each, and what they get you:
Peacock Free
Over 10,000 hours of content, but not full series.
A wide variety of movies, NBC shows, dramas, and reality shows.
A small selection of live sports.
Ads play during content.
NBC shows a week after they air.
Peacock Premium
$4.99 per month with ads (see Premium Plus for no/limited ads.
80,000 hours of content.
Peacock Originals like Brave New World, The Capture, and Intelligence.
Movies likes Shrek, Ted, and You, Me & Dupree.
Shows like Brooklyn Nine-Nine, SNL, Battlestar Galactica, The Office
Live sports, including Premier League, Sunday Night Football, cycling and, recently, WWE.
Peacock Premium Plus
$9.99 mostly without ads (or $4.99 for Xfinity subscribers).
Select titles to download to watch offline.
NBC shows a day after they air.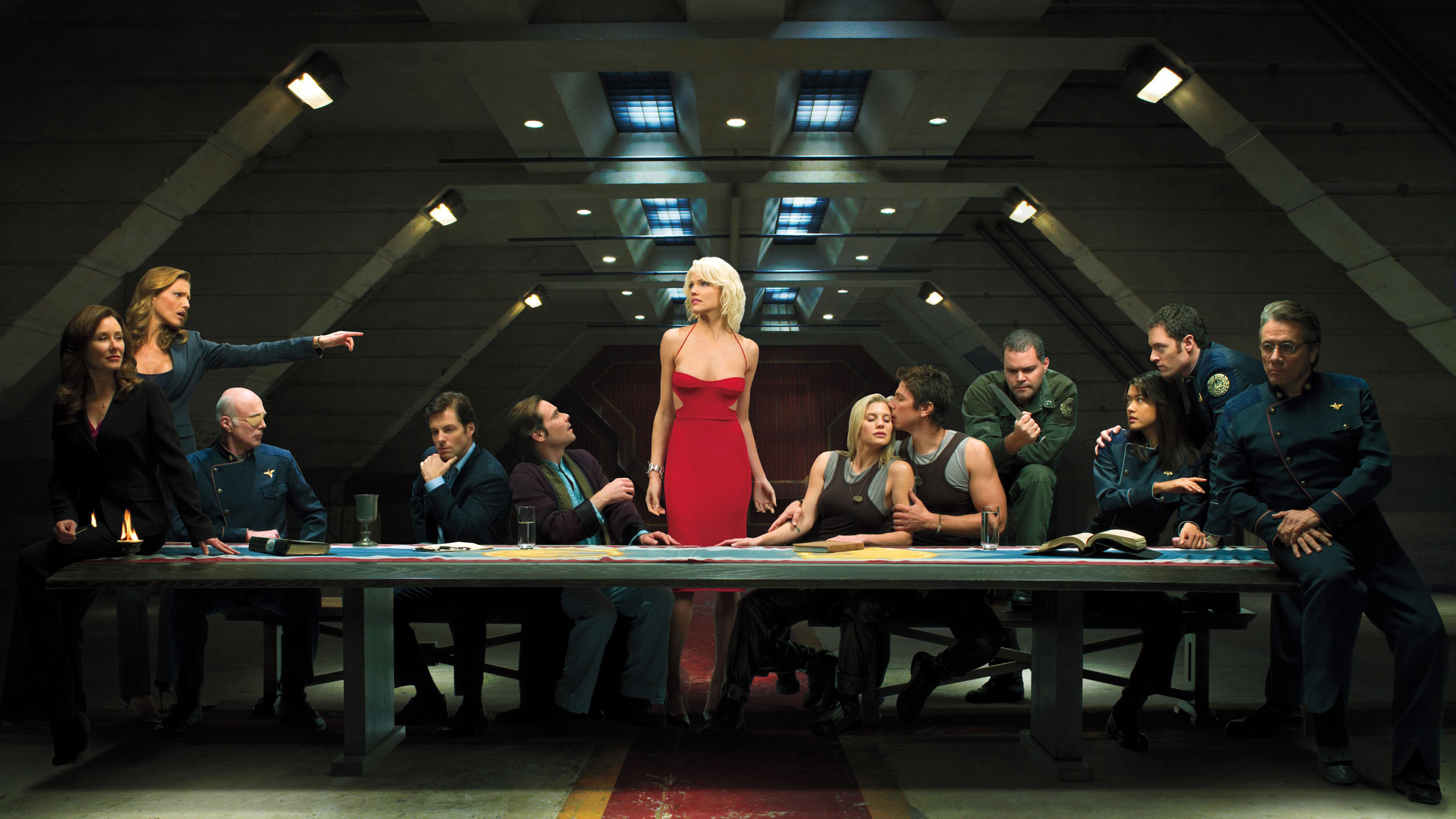 Peacock TV free trial: is there one?
Yes, there's a 7-day Peacock TV free trial for the Premium and Premium Plus tiers. You can choose from the plan picker page here (opens in new tab).
How to watch Peacock
Peacock TV apps and devices
These are the supported devices to watch Peacock on:
Web browsers:
Chrome 75+ (Windows/Mac)
Firefox 88+ (Windows/Mac)
MS Edge 80+ (Windows/Mac)
Safari 12+ (Mac)
Mobile and Tablet Devices:
Android: 6.0 or above
iOS: 14 or above
Devices:
iPhone, iPad, iPod touch, Apple TV 4K and Apple TV HD
Android, including Android TV and Chromecast
Hisense VIDAA (2021 and later), LG Smart TVs (LG WebOS 3.5 or above), Samsung Smart TV (2017 and later)
Xbox One S, Xbox Series X, Xbox Series S, PS4 and PS5
Selected Roku 
Vizio Smartcast
Xfinity XG1v1 (Arris), XG1v3, XG1v4, XG2v2, XiD, Xi3, Xi5, Xi6 and Flex
Cox: Contour Box with Voice Remote, Contour Stream Player
Find a full list of supported devices here (opens in new tab).
How to watch Peacock via Sky TV (UK, Ireland and selected Europe)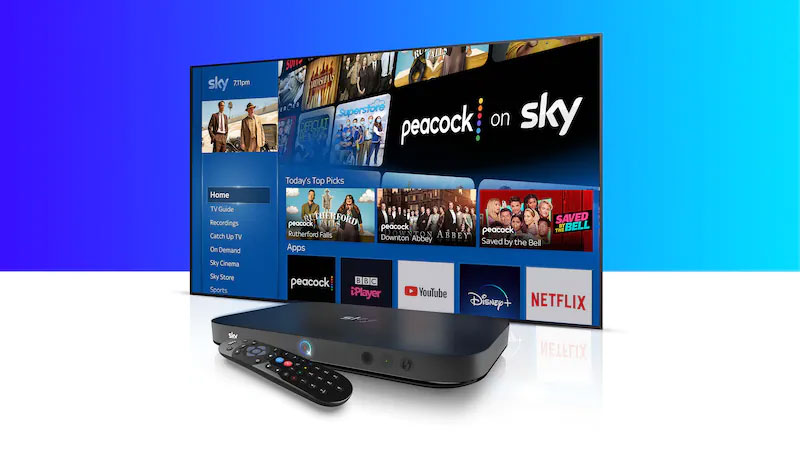 If you're in the UK, Ireland, Germany, Italy, Austria or Switzerland, you can watch Peacock via Sky TV platforms. It is included as part of a Sky Glass, Sky Q, Sky+ and NOW package (depending on availability of each in your territory). Simply say "Peacock" into your remote or find it in the apps rail.
You won't get access to the full Peacock library or channels, but there is some good content available, including complete collections of shows like Suits, The Office, House and Downton Abbey. There's also reality TV aplenty, including The Real Housewives, Keeping Up With The Kardashians and Below Deck, plus films including About Time and Brüno. However, the selection appears to be reducing so it isn't clear what the future holds for the service outside of the USA.
Peacock TV shows, movies, sports and channels
Peacock TV shows, movies and sports content (USA)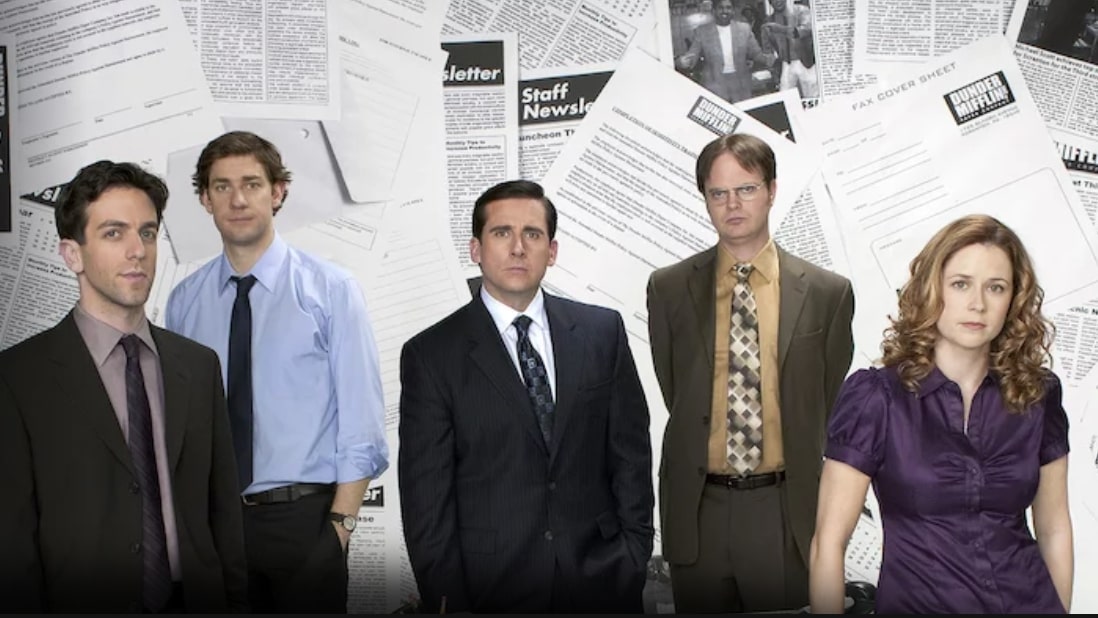 The shows and movies you get on Peacock TV in the US depend on whether you're with the free or premium tiers. Movies on Peacock aren't as brilliant as the TV content, but there are some worthy titles. Movies on the free tier aren't wide-ranging, but include We Need to Talk About Kevin, Fever Pitch and Highlander. A big win for Peacock is the inclusion of all the Harry Potter films.
But the premium tier unlocks a host of better content, like 50 First Dates, The 40 Year-Old Virgin, 13 Going On 30, three of the Fast & Furious line-up and How To Train Your Dragon 2.
TV shows are arguably a bigger deal for Peacock, though, with The Office as a standout pick.
Free tier shows
These are some of the shows that have free episodes or full series:
The Office, Parks and Recreation, Weeds, Everybody Hates Chris, Eureka, The Fall, Battlestar Galactica (the modern version), Parenthood, Suits, New Amsterdam, Psych, House, Monk, Bates Hotel, Downton Abbey, Friday Night Lights, Alfred Hitchcock Presents, Frasier, Cheers
Premium tier shows
If you're willing to spend $4.99 or more, the TV offering ramps up a little, with full series of all of the above and more. Here's a sample what you can get on Peacock TV's Premium/Premium Plus tiers:
Superstore, Bumper in Berlin, Law & Order, Law & Order SVU, Bel-Air, The Thing About Pam, Charmed, Saturday Night Live and more.
If you want to watch NBC shows the day after they air, too, you'll want the Premium Plus Tier. 
Live TV events
The Tonight Show Starring Jimmy Fallon and Late Night with Seth Meyers (on at an earlier time), NBC Nightly News with Lester Holt, Premier League matches, Sunday Night Football, Golf and WWE.
Peacock TV originals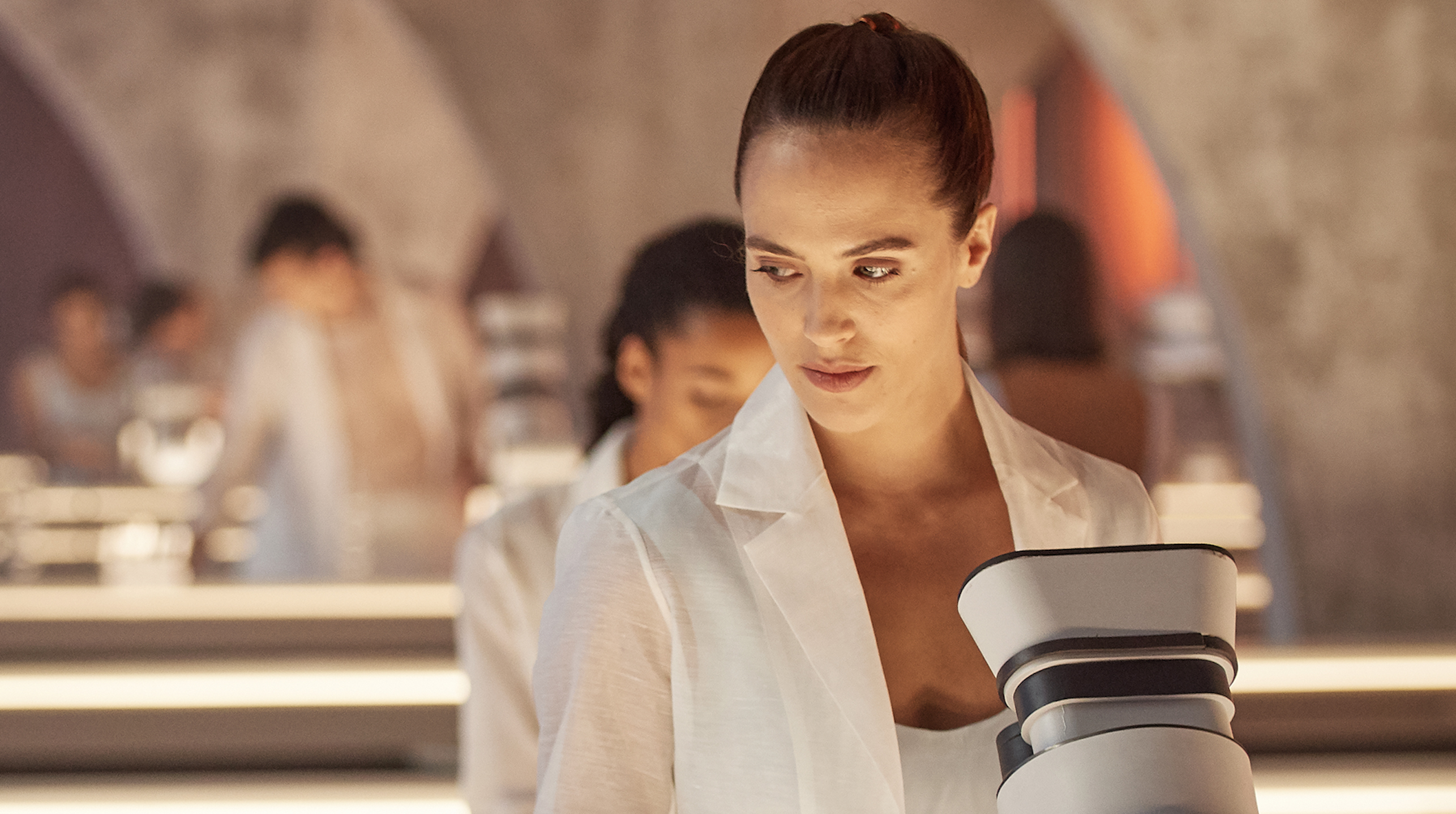 In a crowded streaming market, platforms need to raise their original content game to compete. Peacock's line-up is pretty strong. The following originals are exclusive to the Premium tier, but you can watch a few free episodes to get you started.
We Are Lady Parts: A music-based comedy about a Muslim punk band in London.
Dr Death: A crime drama anthology.
Saved By The Bell: A reboot of the original '90s classic series about American high school.
A.P Bio: Drama centred on hotel-casino security surveillance employees.
Rutherford Falls: Two friends are tested when a crisis hits their small town.
Girls 5eva: A musical comedy about a one-hit wonder '90s girl group.
A Friend of the Family: The story of a family whose daughter is kidnapped multiple times over many years.
Vampire Academy: A horror fantasy series based on the novels of the same name.
One of Us is Lying: A teen murder mystery based on the best-selling novel.
Brave New World: Based on Aldous Huxley's classic sci-fi novel, starring Demi Moore and Alden Ehrenreich.
The Capture: Featuring Laura Haddock (White Lines), this UK detective drama follows a soldier accused of a crime, which descends into a complex conspiracy.
Curious George: An animated series inspired by the classic children's books.
Psych 2: Lassie Come Home: TV movie sequel about a man pretending to be psychic to solve crimes.
Intelligence: Comedy with David Schwimmer as the US liaison to a UK cyber crimes unit. 
Cleopatra in Space: Based on a graphic novel series, an animated series based on the untold stories of an Egyptian legend.
In Deep with Ryan Lochte: Reality series documenting the swimmer's efforts to rejoin the Olympic team.
Lost Speedways with Dale Earnhardt Jr.: An examination of the left-behind speedways of racing history with the ex-Nascar driver.
Peacock TV: sports content explained
Sports are a clear focus of the Peacock strategy.
There's a huge range of sports on offer, both live and on-demand, with Premier League, Sunday Night Football, Golf, SuperMotocross, WWE, Rugby, Horse Racing, Figure Skating and Track & Field all available to watch. 
These are part of the Premium packages, but bear in mind you will encounter some ads due to licensing restrictions. You'll also be able to enjoy full coverage of key events, for example the Olympics were part of the package in 2021.
Peacock channels explained
As well as a library of on-demand content, Peacock has over 50 always-on channels included with its Premium and Premium Plus tiers. These include Hallmark channels, News, Sports and Crime & Mystery – and a new addition is your local NBC channel, included with Premium Plus. Much like Hulu it's like having TV integrated into the service.
Is Peacock a genuine alternative to Netflix and the rest?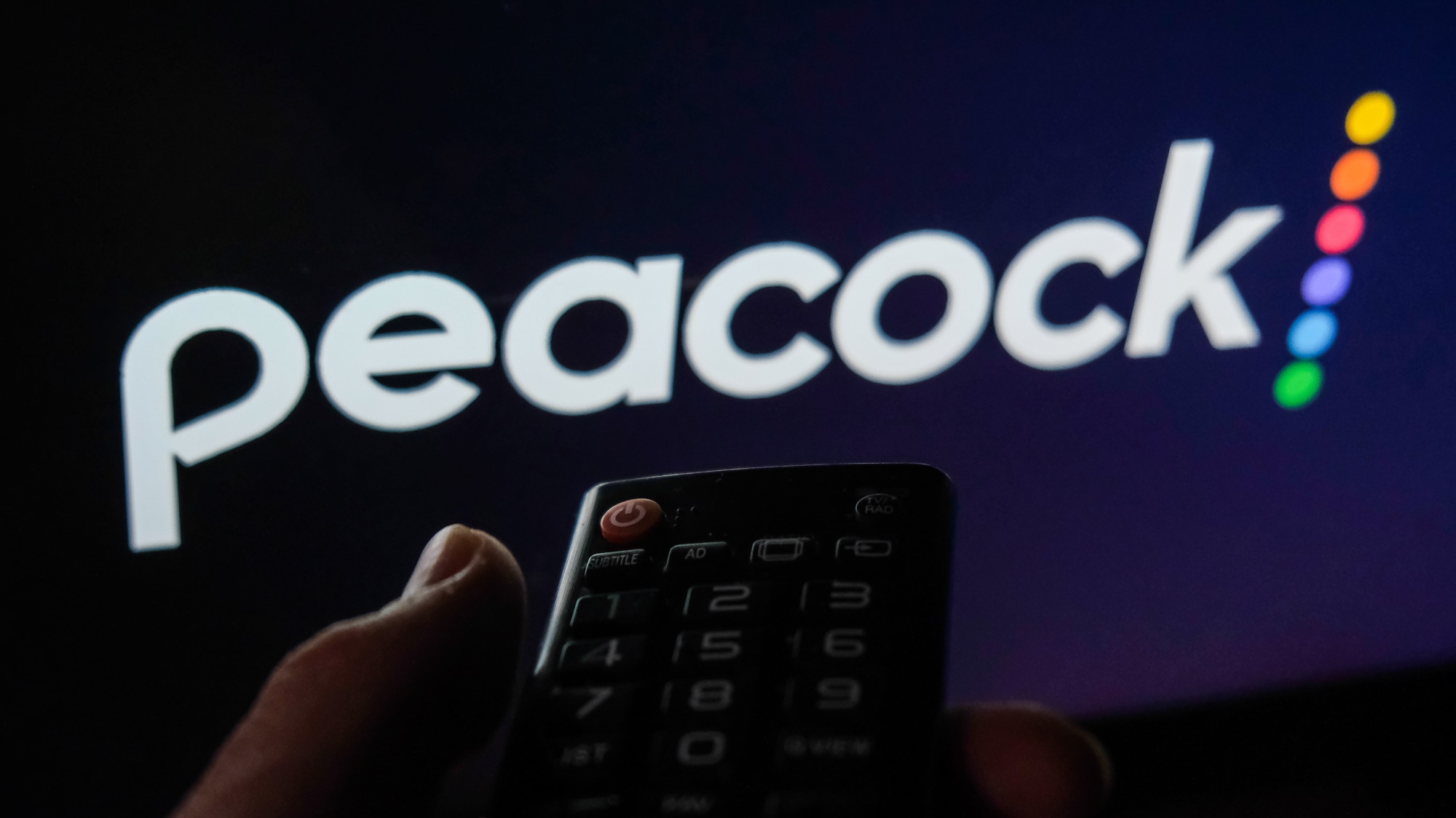 Peacock's free tier gives it a massive advantage in grabbing attention, given how overcrowded the streaming market has gotten in the past few years. However, th free plan has become a lot more limited since Peacock launched it, with many shows and movies migrating to behind the paywall.
Peacock TV functions as a service that's somewhere between Hulu and Disney Plus – a decent library of shows, but without the onslaught of originals and wide range of quality movies seen on Netflix.
Want to do some more research? Here's everything we know about HBO Max.